Ethereum NFTs are coming to Instagram this week and Facebook could be next as we can see more in our latest Ethereum news today.
Instagram will also support Polygon and will add Flow and Solana soon, while Facebook will support the NFTs in the near future. Ethereum NFTs are coming to Instagram and creators will soon be able to display verified NFT collectibles starting this week. After teasing from CEO and co-founder Mark Zuckerberg in March, Meta announced that it will be rolling out support for NFTs on popular photo-sharing app Instagram this week, with support on Facebook just around the corner.
Instagram will allow NFT collectors and creators alike to link their crypto wallets to view verified collectibles, which began this week in the US with a phased rollout that won't hit every user right away. Therefore, the feature will initially support NFTs minted on Polygon and Ethereum, with the former being a scaling solution for Ethereum. Soon, Instagram plans to add support for NFTs minted on Solana and Flow, both of which are popular collectible networks. Supported wallets at launch include Rainbow, Trust Wallet, and MetaMask, with more to come such as Coinbase Wallet, Dapper Wallet, and Phantom.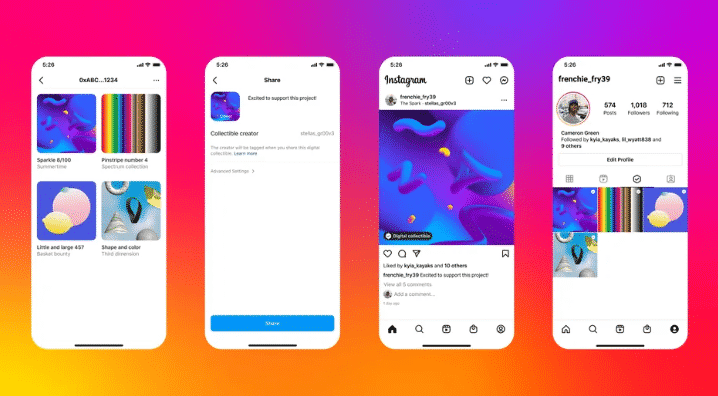 An NFT works like a blockchain-backed receipt that proves ownership of an item, and is commonly used for digital goods such as artwork, profile pictures, and sports collectibles, so the market swelled to $25 billion in trade in 2021. According to Meta, NFT images displayed on Instagram have a unique shimmer effect that differentiates them from the standard shared images and photos, and they are credited to both the collector and creator, so no fees are attached to the NFT feature.
Facebook will also add NFT support, according to a Facebook representative, so the company will add the ability to use the NFTs as augmented reality stickers on Instagram. Meta is collaborating with creators like Gary Vaynerchuk and Jen Stark, and projects like Adam Bomb Squar and Boss Beauties to launch the NFT initiative. The meta move followed that of Twitter, which added the ability to select users to view NFT profile pictures in January. The feature is limited to subscribers to the premium Twitter Blue service and only supports ETH NFTs for now.
While Twitter's feature was seen as a boon to mainstream adoption of NFTs, it was launched during the hot market and fairly panned by some. It wasn't just NFT critics who complained about the environmental impact and crypto fraud, with some NFT supporters chafing at the need to pay a subscription fee to verify the NFT as a profile picture. Meta's move is part of a larger push towards the Metaverse for the company, as was fully revealed when Facebook changed its parent company's name.
A leader in many crypto news categories, DC Forecasts strives for the highest journalistic standards and adheres to strict editorial guidelines. If you are interested in offering your expertise or contributing to our news site, please feel free to contact us at [email protected]