Ethereum bear flag price charts show that ETH could drop to $2000 and analysts expect the coin to keep the long-term bullish bias on bets that its upgrade will succeed, so let's learn more in our latest Ethereum news today read.
Ethereum's native token fell 20% in the last three weeks, hitting a monthly low of $2900, but despite the rally above the $3000 price level, technicals suggest that further downside is possible in the near term. Ethereum bear flag signal appeared when the price consolidated higher inside the ascending parallel channel after a strong downward move and decided to continue falling after the price broke out of the channel. ETH price turned lower after testing the bear flag upper trendline and now eyes are on the extended drop to the lower trendline near $2700. As the pattern develops, the price may continue falling with its target at the length of the flagpole height as can be shown on the charts.
With post-merger supply growth of -2.8% p.a #Ether about 3.3 million ETH are burned per year.

By the end of the decade, total ETH supply will fall below 100 million.

In other words, we will burn the equivalent of ALL ETH currently sitting on exchanges!!!! pic.twitter.com/zqr54TGCzC

— Lark Davis (@TheCryptoLark) April 6, 2022
As a result, Ether's bear flag establishment risked a potential retest of $2000 in Q2. Ethereum's correlation with BTC and the realm of traditional markets has increased downside risks in recent months. For example, the correlation coefficient between Nasdaq and ETH was 0.95, and a coefficient of 1 means the assets move perfectly in tandem. ETH's price is down 19% since the start of 2022, and meanwhile, BTC, stocks and other riskier markets have also fallen this year as investors saw the Fed's willingness to hike rates and its $9 trillion balance sheet – to reduce dollars.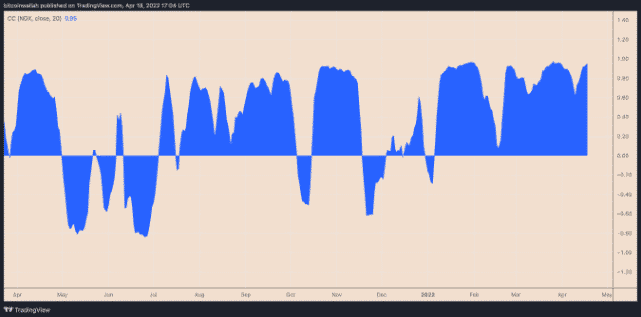 More or less, ETH's decline came largely on sentiment that less money will be available to buy riskier assets. However, speculators remained hopeful on the long-term upside as the much-anticipated protocol upgrade dubbed Merge will be released after June. One analyst noted:
"ETH is still experiencing selling pressure from people looking to make a quick buck from the merger. Eventually we will find balance, I am not interested in predicting that bottom, I just want to gather as much as possible before we get there."
The months leading up to the tech update coincided with a downtrend in ETH held by exchanges, with the number of non-zero ETH addresses increasing and more ETH flowing into the merger's official smart contract. Seeking Alpha analyst Kenan Mell argued that ETH's way of shadow forking before the start of the merge only increases the possibility of being successful before the start.
A leader in many crypto news categories, DC Forecasts strives for the highest journalistic standards and adheres to strict editorial guidelines. If you are interested in offering your expertise or contributing to our news site, please feel free to contact us at [email protected]